Visualize magnetic fields and IR light beams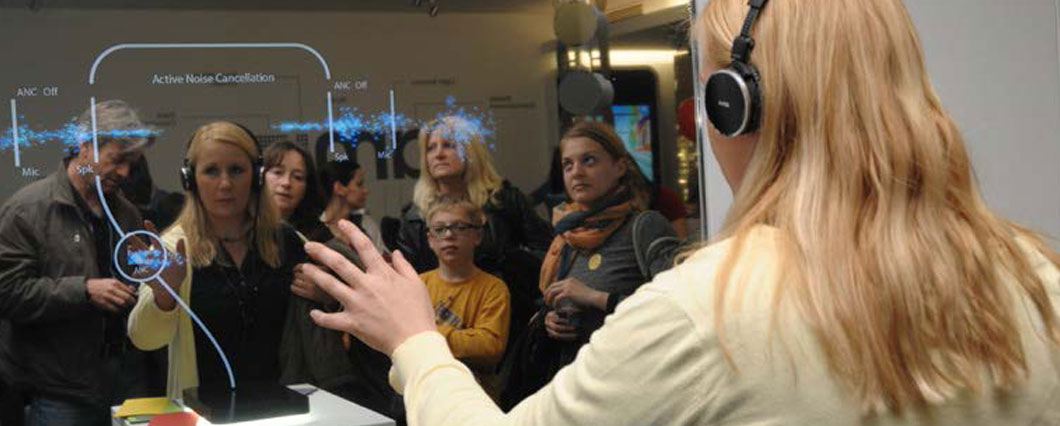 Edelweiss Innovation developed a holographic mirror system for the Austrian sensor manufacturer ams AG. The goal was to visualize sensing ranges like magnetic fields and IR light beams, so ams AG gets a tool to present their marked leading technologies in a native and fun way.
While the basic system is an optical illusion based on viewing angle and object to mirror to screen distance, a special challenge was to realize the needed hand tracking to control the use cases.
The Argos P100 by BECOM with the additional TOF flash was the perfect choice for depth sensing as it provides a stable system despite different challenging light surroundings.
The Edelweiss Holo Mirror has been a very viable part at our booth at mobile world congress in Barcelona in illustrating and visualizing to our visitors how our sensor technology works in a variety of different applications...
How does it work?
The ams Holo Mirror provides a new way to present interactive content melting together the real and the virtual world. The shown use case visualizes an IR light beam used in gesture recognition chip sets. The data from the Argos P100 provides the 3D position of the user's hand, while the proprietary C+ software from Neuland Multimedia calculates the light beam reflections and particle flows. This setup and the semi transparent mirror creates the illusion of directly interacting with the real chipset.